This Page has the stuff that was on the blog from the Fall of 2005 and the early part of 2006
4/07/06
I'm baaaaaack!
My computer got hit with a virus and I've been slow to get all the programs I need to use reinstalled. What a frustrating experience it has been. Between the tasks of getting the computer back up and running and getting my basement re-organized so I can set up some new scenarios, I've been overwhelmed. It was almost like I was infected with some kind of virus that just sucked up all of my motivation. I still haven't faced the basement, but I did take a few more photos on my destroyed city "set". The FOV Stug III is a cool vehicle. Of course, the Conte SS guys and American Airborne are awesome as well!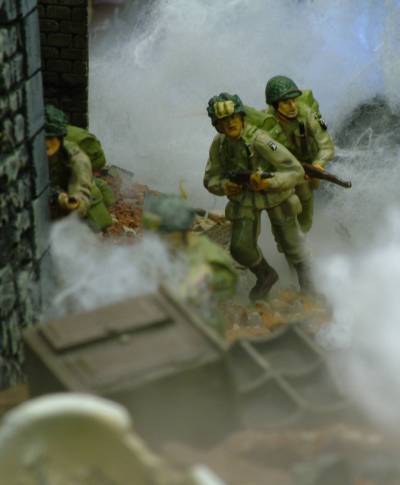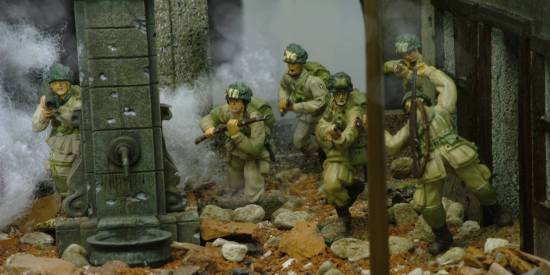 3/11/06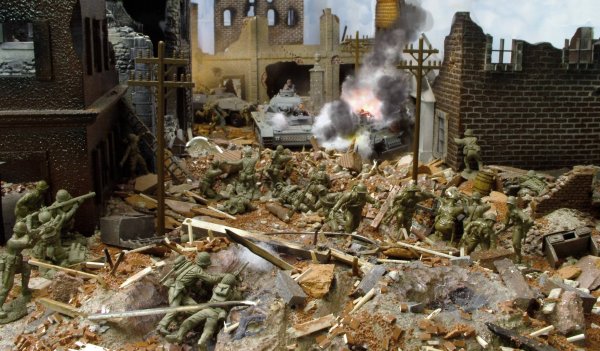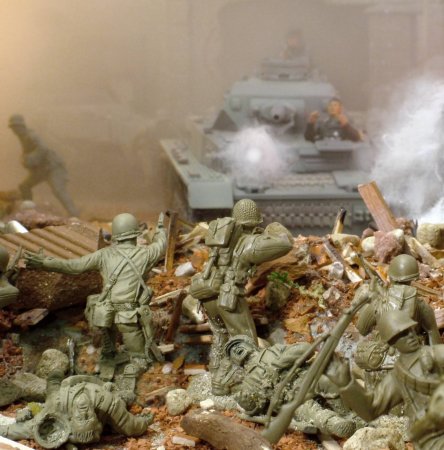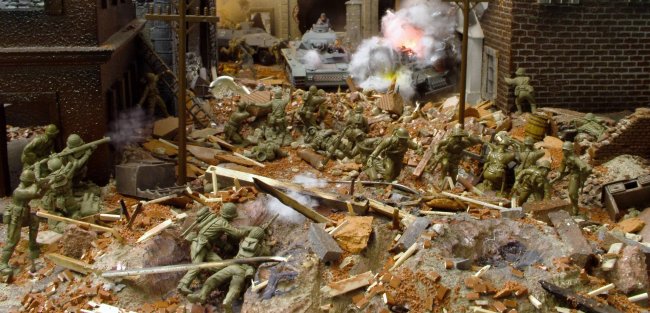 think they waited just a little too long to pull back...
3/3/06
At last I can share some of the most exciting preview pics I've ever had to sit on...from the greatest World War Two playset ever...Omaha Beach...Hitting the Beach!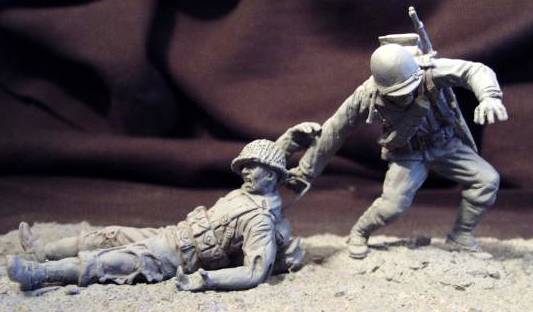 Go to the Preview Page for more Pics!
2/26/06
This is a little too up close and personal!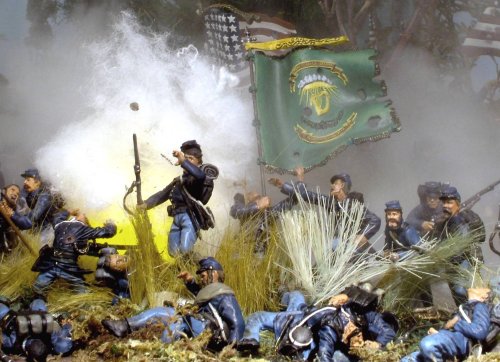 I've put the whole series of Civil War pictures I took in February on a separate page. Click here or on the above picture to see them.
2/17/06
It's been a while since the Rev War guys got into action.
2/16/06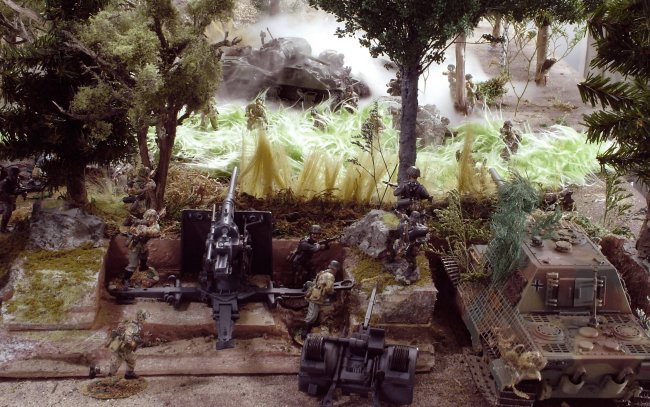 I've moved the whole series of the German ambush of the American Patrol to a separate page. Click Here or on the picture to see this series of photos.
2/11/06
Tonight I continued playing with the new terrain piece I made yesterday. First...Romans!
2/10/06
I spent the day making some terrain pieces. This hill fits on a shelf...well, a tall shelf...and works with alot of different eras. It displays the Rangers very nicely.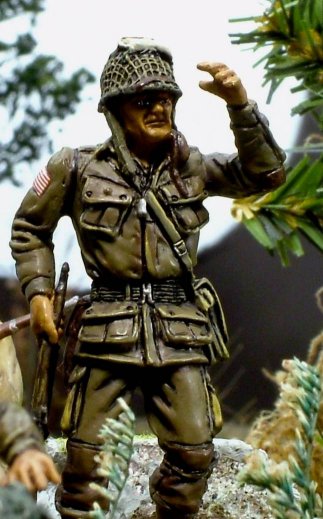 I enhanced his eyes in this shot.
2/06/06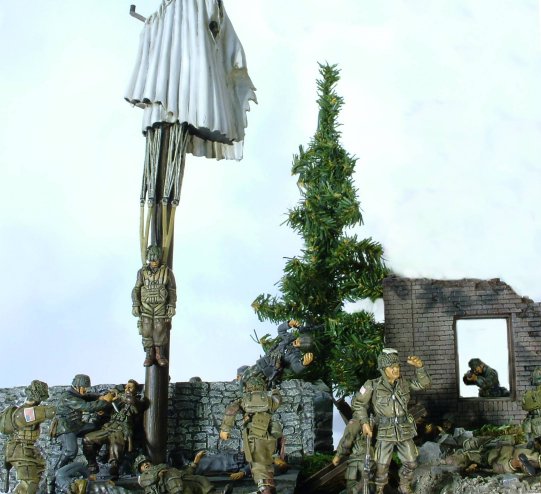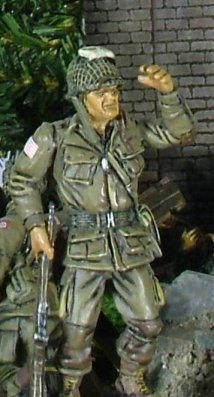 2/03/06
So far today I've updated the "Action Photos Section" with series of Alamo playset pics, Plastic GIs pics, and Omaha Beach Pics. I've also moved the blog section from Fall of 2005 to an archive page. (See top of the page for the link). Next up...posting new photos and prices of the new WW2 sets that just came in! Watch the New Releases Page! (Prices are posted already on the WW2Blitzpage.)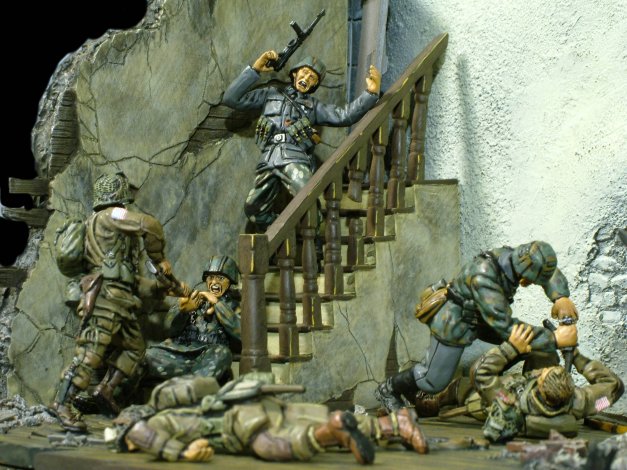 2/01/06
I think I'm back and ready to go again. I received word today that nine new painted metal WW2 sets arrived in the warehouse. (Can you say "Hooaw!") I should have prices tomorrow and pictures up by Friday.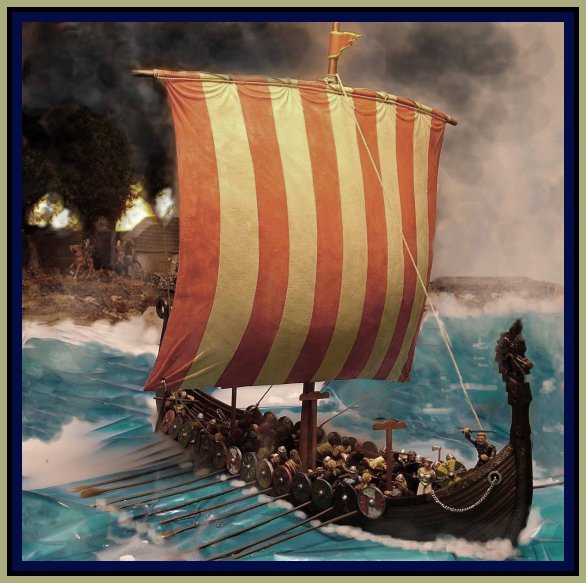 12/27/05
I will be away from the computer for a week or so. In recent days I have updated the New Releases Page. If you haven't checked it out recently...it'll be worth your while.
12/26/05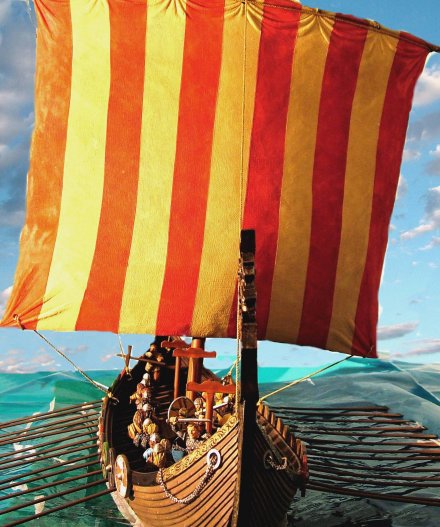 I bought some blue cellophane a couple of years ago thinking I would use it for water someday. It sure works well, doesn't it? Of course, the Viking ship is so cool, any picture would look good.
Here's a close up of one of the five figures in the newly released VIK-022. The first 100 collectors to buy the Viking Ship directly from Conte Collectibles gets this set, list price $85.00, for free with their order.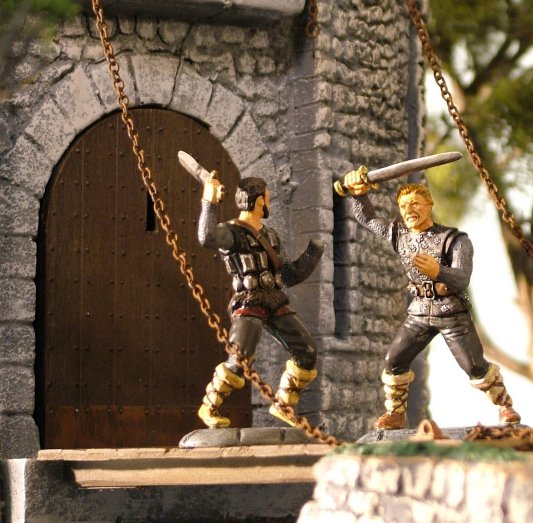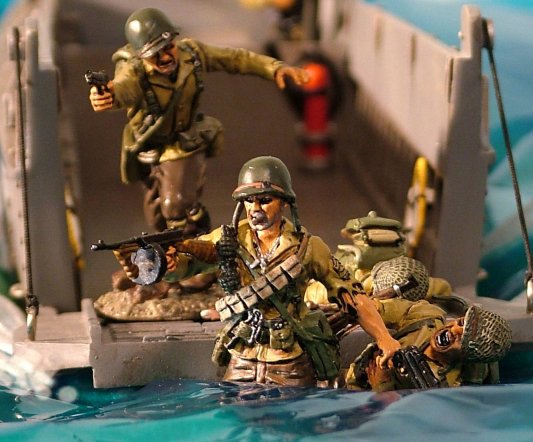 I especially like this guy in the new painted metal Viking set.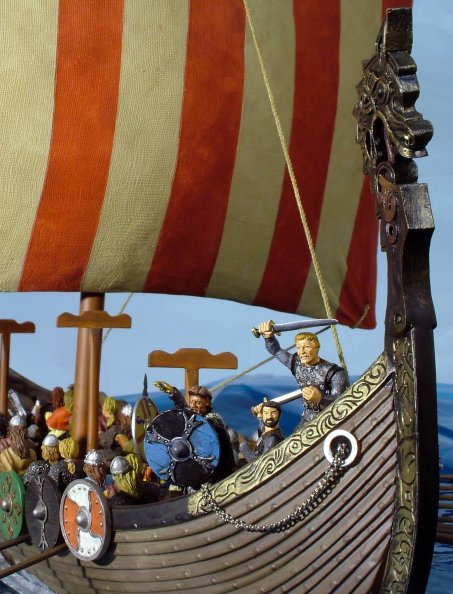 12/25/05
Merry Christmas!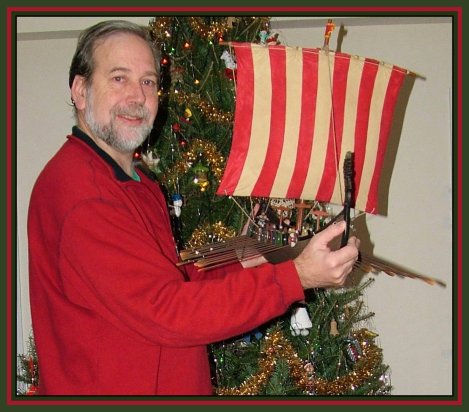 May you enjoy all the blessings of this wonderful day! (And I'm not just talkin' toys!)
12/23/05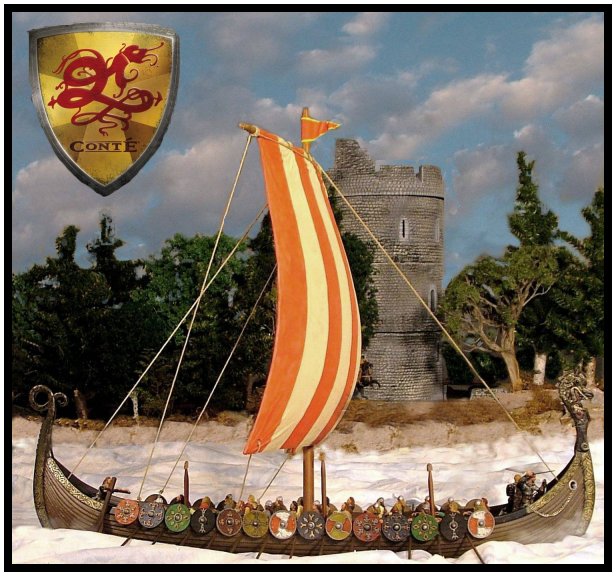 The Viking Ship is Here!!!
I am absolutely amazed at this incredible set. The sculpting is fantastic. The detail is amazing and the full hand painted crew is breathtaking. And it went together without a hitch! Let the marauding begin!
These guys are in stock and shipping now!!! Check out the New Releases Page!
I can never leave well enough alone...I like to move the guys around!
12/22/05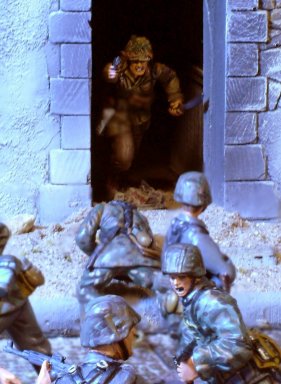 12/19/05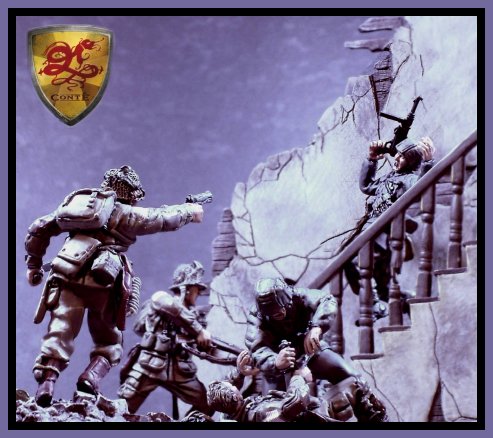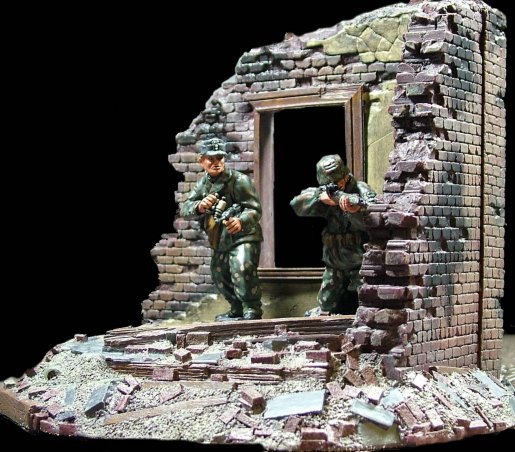 12/17/05
Thursday I received the new Viking ship...Friday I received the samples of the new painted metal stuff...and my wife forbade me to open the boxes upstairs...so I had to finally bear down and make room in the basement. I finally got enough done where I could open the box of WWII metal. Am I ever going to have fun with these! Hopefully I will get a few pics up tomorrow night.
12/10/05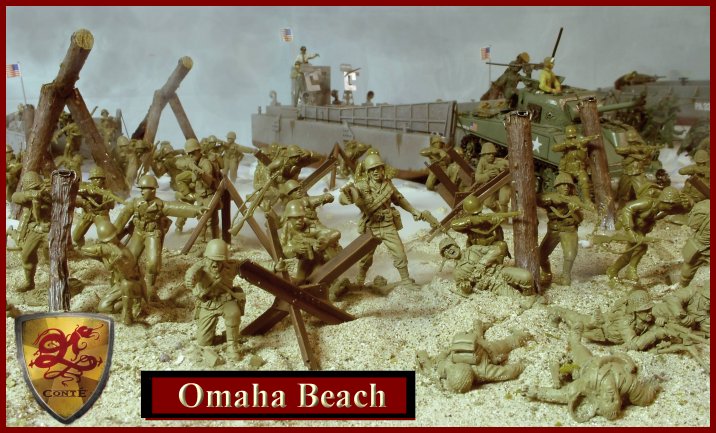 Click on the picture or Here to see the whole series of Omaha Beach photos!
12/08/05
The next couple of weeks should be fairly eventful on the website. I now have the beach obstacles I've been waiting for so I can attempt some beach scenes...though I can't use the real beach down the street cause it's under a few inches of snow! I also have some metal viking figures to photograph and have been told I'll have most of the painted WW2 soon. I may be able to share some pictures of the test shots of Robert Ortiz's GIs in plastic, though that will be up to RC. (I've seen them...) I have off this weekend, and though my wife has a "honey do" list a mile long, I hope to have some beach landing scenes up by Sunday.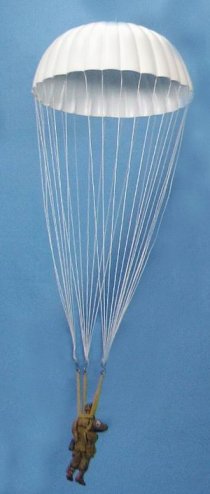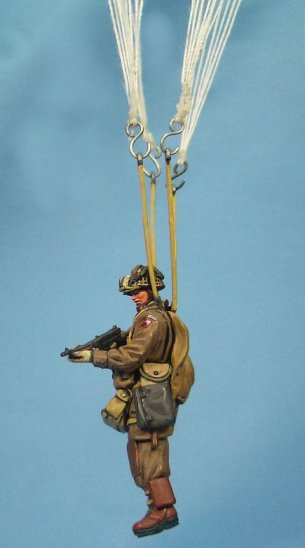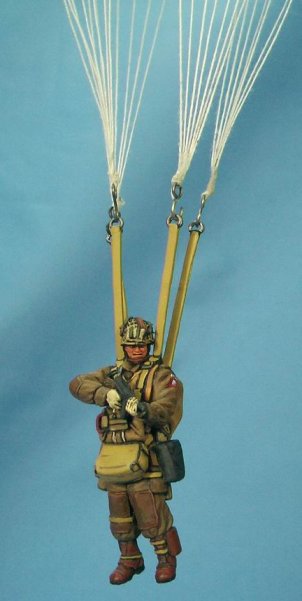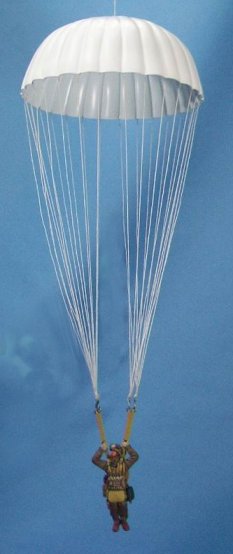 Check these guys out!!!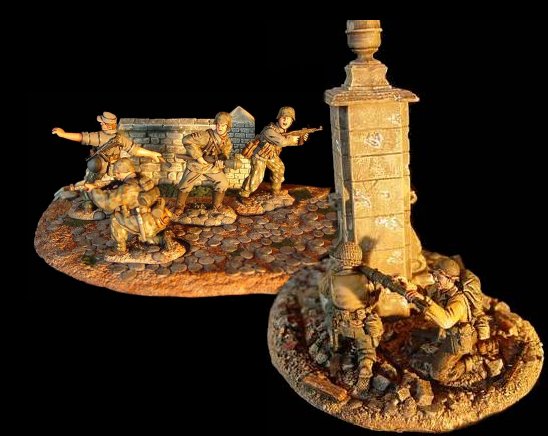 11/18/05
It's been a goofy month for me so I haven't been able to "play" with the stuff as I wanted to. However, I have been authorized to publish the first pictures of some very exciting additions to the Conte Line...Two different landing craft and a brand new Viking Ship!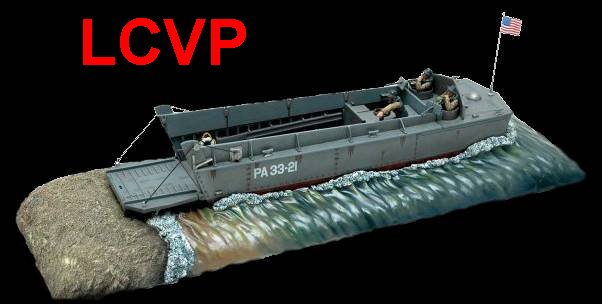 I really wanted to first show this great piece in a dramatic battle shot, but the logistics of the process haven't allowed that. However, the incredible base combined with the incredible sculpt is breathtaking all on its own. Check the Preview Page for pictures of the LCM3 and the Viking Ship.