PLAYSETS
Currently In Stock

ALA006
ALA007
Civil War Playsets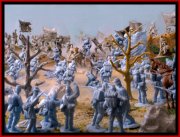 Medieval Playsets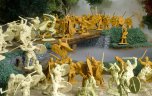 The playset has its origin in the 1950s when plastic was a new and revolutionary material. Metal toy soldiers had been around for centuries, but they were by nature expensive. The advent of injection molding made it possible to produce toy soldiers out of plastic at a fraction of the cost per figure when made in large quantities. As time passed, toy designers saw the potential to not only make soldiers, but also accessories so a kid could get everything he needed in one "playset" to re-create history on his living room floor or in his back yard. In the 50s and 60s, no one did playsets like Louis Marx and the Marx Toy Company. The combination of dynamically sculpted figures in action poses, accessories, metal buildings and tie-ins to movies and television shows captured the imagination of millions of baby-boomer boys.
Marx Playsets evolved through the 1950s and peaked in terms of elaborateness in the 1960s. Then, in the 1970s, their popularity declined. The Marx company was sold to new owners and the golden age of playsets was over. Several decades later, in the late 1980s and 90s, the old playsets became sought after collectible toys as adult baby boomers sought to reconnect with the joys of their childhood. Collectors not only relished getting their hands on the toys they loved as a child, but when they got together, they often would lament all the playsets that never were. Many dreamed of making new playsets in the spirit of the old Marx Company, but the economic reality was that the molds used to produce the figures and accessories were so expensive to make and the market for new playsets so small, that it just wasn't feasible.
As the 1990s progressed, the playset collecting fraternity grew in numbers. The first new Marx-style playsets to be made in decades were produced and marketed to the playset collecting community. In some, resin figures that could be made from cheaper molds replaced the injection molded plastic figures of the past. These sets were wonderful, but there was still a longing in many hearts for someone to truly pick up the mantle dropped by Louis Marx. Then in 1999, Richard Conte and his company, Conte Collectibles, appeared on the scene.
Richard had long been an avid playset collector. He had shared the "playset dreams" that haunted so many of us, but in 1999 he found himself in a position to do something about making those dreams come true. He had reached a career milestone that left him free and able to invest himself in his passion. With his wife Nancy's blessing, he started working to build a company that would not just recreate what Louis Marx had done with the playset art form, but surpass it. 1999 saw the debut of two huge playsets based on the movie "Zulu", which starred Michael Caine, and another Medieval playset. These sets, containing massive, true 1/32nd scale foam buildings and numerous new poses of incredibly sculpted, injected molded plastic figures, served notice that a new "Golden Age of Playsets" was beginning. Two playsets bringing the classic movie "Beau Geste" to life followed, as well as playsets based on the film "The Longest Day". By 2004, Conte Collectibles had brought to market three medieval playsets, three Zulu War playsets, three French Foreign Legion playsets, seven World War Two playsets, five Alamo playsets, two Civil War playsets and an Afghan/Highlander playset. That's an amazing 240 (by my rough count) different poses of new, injection molded plastic figures.The most recent playsets I have taken the playset art form to a new dynamic dimension with the inclusion of a few solid color metal figures capturing animation that could not be produced in plastic.
Playsets continue to be a matter of passion rather than practicality for Richard. The cost of new molds has not gone down and the size of the playset collecting community has not sufficiently increased to defray those costs. If bottom line focused bean counters made the decisions at Conte Collectibles, Conte playsets would probably go the way of Marx playsets, and the full focus of the company would switch to the painted metal figure line. Thankfully, it is a dreamer who makes the decisions and takes the financial risks at Conte Collecitbles and we can look forward to more "playset-dreams" coming true.