REMEMBER THE ALAMO!
At last, a true 1/32nd scale series of "playsets" containing buildings, figures, and accessories which recreate the historic fortress which became one of the greatest shrines to liberty.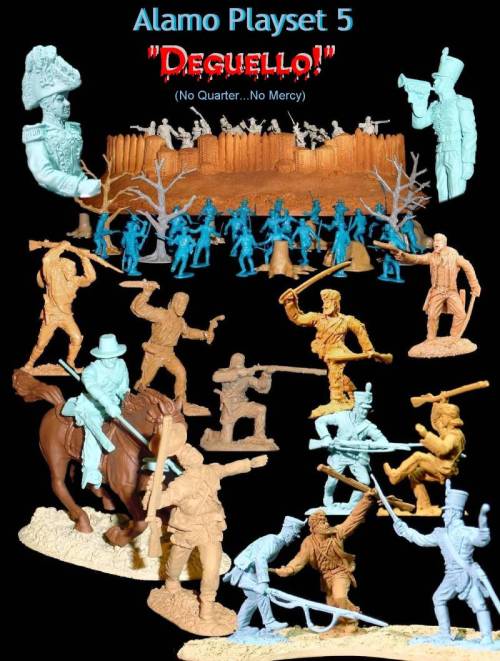 We are proud to, at last, unveil "Alamo Playset #5" which we have entitled "Deguello!" (based upon the Mexican bugle call which basically meant 'no quarter", decreeing that all Texian defenders would be put to the sword).

This set contains an amazing collection of new poses which bring the "action" inside the Alamo to a new frenzied level. Our aim was to focus this set on the fighting which took place "inside" the mission as the Mexican Army attacked the Texians & Tennesseans around "the mound" and in the "courtyard"( see playset #1).

As we 'go to print", it looks like this set will have 14 brand new never seen before poses including 6 Mexican poses. 9 of these poses were rendered in pewter (at additional cost to us) in order to be able to "capture the action" which we wanted to convey. Simply put, many of these poses just could not have been done in plastic or in resin. These pewter figures, like the Tennessean & Mexican pewter figure vignette from playset #4--which have received 'rave reviews" from countless numbers of you--are painted in single colors to compliment the colors being used for the rest of our figures. (We appreciate very much those of you who have contacted us to say kind things regarding the pewter poses in Playset 4). If you've enjoyed Alamo playsets 1 thru 4, we think you are "gonna" be very pleased with "Deguello!".

Deguello's pewter poses include Generallissimo Santa Anna on horseback; a Mexican bugler (of course! how else are you going to play the Deguello??); and three unbelievable "hand to hand" 'vignettes' containing 7 figures plus horse which show some of the final moments as the Mexicans overran the walls and engaged in fights to the death with our valiant defenders. One set is made up of what we call the "Tex/Mex Trio" and shows a Tennessean fighting off 2 attackers simultaneously--it also comes with a mini terrain base. A second grouping portrays a Mexican "presidio" lancer charging hell bent for leather after a running defender. You'll note that with the proper positioning of the lance, the moment of "impact'" can be created if you desire such realism. The third vignette is made up of a falling wounded Tennessean just as he is being "bayonetted' ....note that the bayonet has been left it's full length so that the 2 figures may be used independently--however, the figures are designed so that the bayonet may be inserted into the abdomen of the falling hero..again, if you so desire. (Merely clip off a small portion of the bayonet tip).

Also new to the collecting world are 5 brand new resin "Texians" which include some exciting new poses. Our first 2 "Tejanos" or Mexican defenders are included as are 2 more Tennesseans and one more Texian. Personally, I like "em all" but really like the fella reduced to fighting with a knife and pistol butt. All of these 5 new resin figures show incredible detail and are evidence of our vast improvements in the areas of resin production both in terms of detail and the pliability of the resin.

The "mound" or defensive embrasure which was built and designed to "back stop" the main gate is approximately 18" by 15" is another excellent terrain piece; once placed "behind" the main gate (playset #3) you'll find your Alamo compound really beginning to take shape. A Marx cannon has been included along with a bunch of Marx "trees, rocks and stumps" and another bag of approximately 25 Marx Mexicans. Also included are a selection of approximately 13 to 14 injection molded Conte Alamo defenders which have appeared in previous playsets. This means that the set includes approximately 27-28 "Conte poses" plus the Marx
Mexicans.


SKU#: ALA005 ($219.00 plus $27 S/H)
---
ALAMO Playset #1: "Battle for the Chapel Courtyard"
Includes Chapel Facade, 2-Courtyard Walls, Ruined Building, Barricade, and Conte injection mold plastic figures plus exclusive "limited edition" resin Alamo defenders and accessories.
SKU#: ALA001 ($209.00 plus $27 S/H)
Click picture for more pictures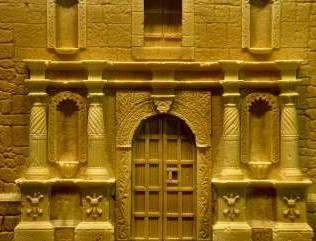 Chapel Facade - Close Up

ALAMO Playset #2: "Defense of the Palisade Wall"
Includes 2-palisade walls complete with earthworks and ramps, well with arch, and Conte injection mold plastic figures plus four (4) exclusive "limited edition" resin Alamo defenders, naval cannon, and accessories. (Click picture for more pictures).
SKU#: ALA002 ($189.00 plus $27 S/H)
ALAMO Playset #3:
"The Main Gate, "Lunette" and Bowies Room"
Includes a huge main gate building with 2-interior rooms, defensive "lunette" and ditch vellum, and Conte injection mold plastic figures plus exclusive "limited edition" resin Colonel Bowie, and other Alamo defenders, and accessories. (Click on picture to see more pics)>
SKU#: ALA003 ($249.00 plus $31 S/H)
Alamo Playset #4:
"We Will Rather Die in these Ditches…"


Alamo Set# 4 continues our "labor of love" playset recreation of the heroic battle for Texas liberty at the famous San Antonio Mission where in 1836 (ah heck, you all know the story!!)....If anything, the fury and action started with our Sets 1, 2 & 3 becomes even more intense this time around......


SKU#: ALA004 ($219.00 plus $27 S/H)
In addition, the first 250 sets (or while supply lasts) sold will also receive (by mailing in a registration form) 2 BONUS pewter figures and a pewter ladder. These figures comprise a "vignette" of a stalwart Texian defender clubbing a brave Mexican soldier off of a scaling ladder as he attempts to reach the top of the Alamo walls. These 2 figures have been made at extra expense in solid pewter and painted a single color which matches the colors of our injection molded plastic figures. The "action" of the swinging frontiersman just as he's "connected' with the attacker was so great that we were not willing to compromise the excitement of these poses. (We hope to be mailing these bonus figures by the end of July). I personally think the Texian is one of the best sculpts
we have ever done.....

Set #4 covers the action at the Southwest corner of the Alamo and includes 3 large "building" pieces as well as numerous new figure poses and accessories.

ALAMO Playset #4: "We Will Rather Die in these Ditches..."
Includes the following:
> A corner gun emplacement (approximately 16"deep by 9 1/2 " long (each side) by 4 1/4 " tall)
> Two (2) "straight wall" sections EACH approximately 18" long by 8 1/2 deep by 3 7/8 high

(Note that these are designed in such a way as to allow you to place the straight sections "end to end" or to otherwise place one at each end of the corner emplacement---depending upon how much space you have and how large you want your Alamo to be.)
Figures in Set #4 consist of 16 new figure poses and approximately 80 figures!
> The 2 bonus pewter figures and ladder described above (pictured below)
Proto-type Shown. Actual will be in single color to match our injection mold plastic figures
> 27 brand new injection molded Alamo defenders in 8 brand new
poses plus 1 modified pose. Three (3) each of the nine poses are
included in various colors as in our past Alamo sets 1, 2 & 3. The
new poses include a capless frontiersman firing 2 pistols, a Texian clubbing , a Tennessean with long "squaw" coat firing a rifle, a Texian firing a "scattergun" (I intend to use him for Bowie), 2 dead Texians, a New Orleans Gray kneeling firing, and a New Orleans Gray - with alternate arms - who is either firing a pistol or "touching off" a cannon with a "linstock". The 9th figure is a "redone" Corporal Schiess from our Zulu range who has had a new arm molded which has him now firing a flintlock pistol instead of a Martini Henry!!!! (Note: his arm is attached to the sprue containing the standing firing Tennessean with the squaw coat and feathers on his
coonskin.....)
> Five (5) new "resin" figures which basically comprise our second "gun crew". These include a gun crew commander (who I envision as one of the Alamo leaders; perhaps John J. Baugh, Travis' "Adjutant" who strangely has been excised from most books and films about the siege.....reportedly, in addition to be Travis' "second", Baugh is also the fella who legend tells us awakened Travis on the morning of March 6, 1836 with the warning cry "The Mexicans Are Coming!"...). The other 4 figures in the gun crew are a mixture of Texians & Tennesseans with an extremely interesting variety of costuming...we intended them all to look as they were prepared to work the guns in earnest …to the last.
> Approximately 40 to 50 Marx Mexicans... (Yes, Virginia, you'll have to wait for the injection molded Conte Mexicans.....hey, 16 new poses is enough for a new playset!!! and difficult enough to pay for the sculpting, molding & production!)
Also included in the set:
> New painted pewter cannon which will go quite nicely in the corner gun emplacement.....
> Marx recast "trees, rocks & stumps" which can be littered inside or
outside the Alamo walls.......
All in all, this is quite a nice addition to our Alamo range and finishes our reconstruction of the southern wall (except for the Chapel). The figure poses are amongst the best which we have ever done for the plastic collector and I hope, were "well worth the wait".
---
We thank you, as always for your support of our endeavors, our very, very costly endeavors. Those of you who buy early and buy often and who appreciate the tremendous financial and personal commitment which we are attempting to make on behalf of our fellow plastic collectors are appreciated....thank you!

Please call the office if you have questions or otherwise, hopefully, to place an order!!!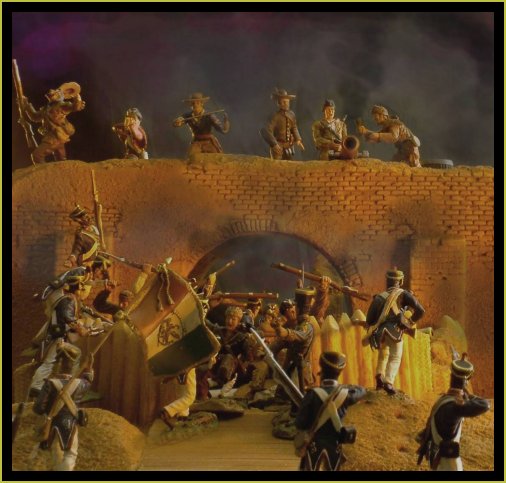 Playset 3's Gate building with Painted Metal Figures
(Click picture for larger view)
Alamo Sets 3 and 4 inside view