Welcome to the Conte Collectibles Website!

Updated August 14, 2011
919-957-3700:


BARBARIANS SNEAK PEEK



Our Germanic Warriors make their appearance...



Pictured here are 3 of over 20 new Barbarians arriving in our new Roman vs. Barbarians series..


As can be seen, these guys are quite formidable opponents to fight your Legions.

These stalwart fellows continue the action and excitement which began with the "Flying Barbarian" in our Rome-001 Winter Games set.

While we made some really nice Barbarians a few years back , these new guys set the new standard for toy soldier opponents of Rome.



---

ROMAN & BARBARIAN UPDATE




AS THESE SNEAK PEEKS WILL SHOW, THINGS ARE SHAPING UP QUITE NICELY ON
THE FRONTIERS OF THE EMPIRE THE NEXT WAVE OF ROMAN SETS HAVE BEEN SENT TO THE FACTORY

As usual, we are doing our best to push the limits in terms of implied motion, action and intensity.
As these photos (and the "burning log" scenes below) show, we think we are achieving our goals quite nicely.




Like the "Flying Barbarian" Rome-001 set (already available) we are depicting our Legions in heavy
combat with the Barbarian Horde in the snow. While sculpting figures with a 'winter' look is much more
time & labor intensive than the typically depicted & produced "warm weather' costuming which all other
manufacturers do, we felt the possibilities of a battle in the snow were just too awesome to overlook.
Said differently, these Winter Games sets cost more to design and produce but we think the finished
product more than justifies the extra effort!




These 4 Attacking Figures obviously depict a general / legate on foot attacking with his troops, a
vexillarius (with the red flag), a signifer (holding the 'sign" ) and another standard bearer who is
in full attack mode. Not pictured figures from our attacking command sets are an attacking aquilifer
( eagle bearer) , a Centurion attacking, a cornicen(trumpeter) sounding orders on his 'cornu' and an
'imager' (holding a staff with an image of the Emperor) also attacking. The 'general' will be appearing
in 2 versions which have different shields and different paint schemes. The ornate shield shown here
hides much of the terrific sculpting on his chest so we've opted to make a second limited edition variation
which will only be available thru the Collectors Club.






Lots of you have been asking about "The Burning Log" Redux Rome-019 set. Long-time Conte collectors
will recall the burning log which we made for our licensed Spartacus product a decade ago which
recreated the scene in the film where Slaves were pulling flaming, rolling logs towards the Romans.
As much as I always loved that early set, there was always more which I wanted to 'do' with it. The
pics below are a tad rough and depict the set before it was molded--hence the different colors of
wax and resin and such used in the sculpts and the log itself in original painted version. This new &
improved version is now being rolled by Barbarians and as can be seen, crashing into the Romans with
all sorts of mayhem the result.




We have also revamped & improved our older marching Roman sets ( Marching to Conquest, Tremble At
the Sound, etc.) with new 'paint jobs' and minor sculpting improvements and will be adding these to
the range. So many of you have requested that we rerrun these marching sets that we decided to make
improvements and bring these back out. Pictures shortly including standard bearers, drummers, officers,
marching legionairres, cornicine, etc..... YES, several totally new sculpts are added to these older sets.




| | |
| --- | --- |
| | |





---





ZULU WAR SETS HAVE ARRIVED!!!!!!!!!!!!!!!!!!
The Shipment Is Here !!!!!

Restocks of the sold out & back order Zulu and 24th Foot sets have arrived!!
Now is your chance to obtain those sets which we were out of (apologies!!) when you tried to order them.

As we are all painfully aware, demand for our Zulu range far outstripped the supply which we had produced
and thought adequate to meet expected demand. Rather than allow any collector to be left 'behind' and/or
forced to pay high prices on the secondary market, we slowed production on our NW Frontier range and
concentrated efforts on restocking the highly successful Zulu range so that all who wanted these sets
could have them!!

NINE SETS HAVE ARRIVED . THESE INCLUDE #001 AND #012 WHICH HAVE BEEN 2
OF OUR BEST SELLING SETS OF ALL TIME.

ALSO IN THIS SHIPMENT #005, #009, #010, #011, #016, #017 AND #018.

If you want these sets please consider ordering now as we won't be rerrunning any of these for quite
some time as our plate is overflowing with new NW Frontier, Roman, Tombstone, Civil War ,
Collectors Club figures, the Roman War Galley and another 10 Zulu War sets!!






ZULU-001


ZULU-012
Click Here to Order Zulu Sets
---
LINKS WE LIKE UPDATE

We have added a bunch more web 'links we like' which may or may not be of interest to you including:
-- TSSD PLASTIC ROMANS
These include a link to Toy Soldiers of San Diego who are making some pretty nice looking plastic
Barbarians & Romans which hopefully will be of interest to our fellow plastic collectors. I've already
ordered mine and suggest you do the same . Ask for Nick or Deanna and tell em we sent ya!!.





--BATTLE SCENE PRODUCTIONS
We have agreed to work with the talented people at BSP to create a very exciting "Sgt. Conte" series of
adventures ........ Be sure to check out their amazing WW2 dioramas and Great Crusade multi media presentation which heavily
rely upon Conte WW2 figures & buildings including our amazing US Airborne metal range .They are doing
exciting work and merit your kind attention!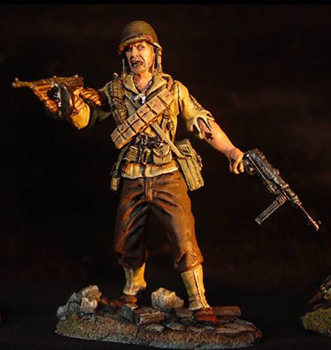 -- PARAGON MINIATURES
Another plastic figure manufacturer who you should take a look at. They have some really interesting
Apaches and US Cavalry which really have me thinking of the John Ford film Fort Apache and the Burt Lancaster
flick Ulzana's Raid. I really like the look of their 'scouts' set.






-Click here to see other links we like


---
SHOW VOLUNTEERS-
We will be attending the OTSN show in Chicago late September and also doing the "East Coaster"
or Hackensack show in early November. If you are interested in helping us set up, sell and/or pack
up in exchange for cash or toy soldier payment we would love to hear from you!!!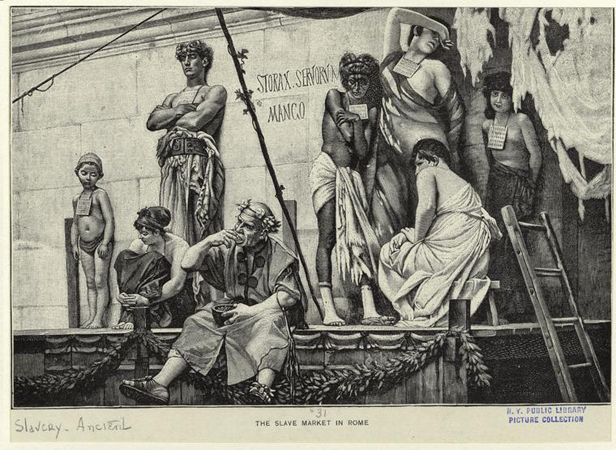 ---
BIG THINGS ARE HAPPENING
A LONG LOST FRIEND RETURNS IN LARGE SCALE


"YOU'LL NEVER KILL HIM BOY----
KILLING'S HIS TRADE
HE WAS BORN TO IT"

AS SOME OF YOU MAY RECALL, WE HAD THIS BEAUTIFUL LARGE SCALE (APPROX. 12" TALL INCLUDING BASE)
NORMAN KNIGHT SCULPTED SEVERAL YEARS BACK.

I'VE DECIDED --AT LAST-- TO MAKE A SMALL RUN OF THESE FOR MYSELF AND THOSE OF YOU WHO KEEP ASKING FOR HIM.

CLEARLY, THIS IS A WORLD CLASS SCULPT--ONE OF THE BEST WE HAVE EVER
DONE AND THE FIRST TIME WE'VE OFFERED SOMETHING
OUT OF OUR NORMAL 1/32 RANGE.

I'M HOPING FOR A STRONG FOLLOWING FOR THE OCCASIONAL FIGURE IN THIS SIZE.
IF ALL GOES WELL, WE WILL HAVE A VIKING IN THE SAME SIZE NEXT FOLLOWED BY AN ANCIENT FIGURE.

DETAILS WILL BE FORTHCOMING AFTER THE FACTORY QUOTES US PRICES & OPTIONS.

CLICK HERE IF YOU'D LIKE TO PRE-RESERVE ONE OR TO BE SENT UPDATES.


---
CIVIL WAR REINFORCEMENTS ON THE WAY
PRE-ORDERS NOW BEING TAKEN

THREE ADDITIONAL 'HAND TO HAND' SETS OF UNION ZOUAVES FIGHTING
CONFEDERATES ARE IN PROCESS.
THESE ARE :


---
---
Hail Collectors !!

Wow. You guys amaze me. It seems a frenzy has started.
Less than 16 hours after posting the return of the Roman Fleet, we've already
received enough pre-reservations to make this project a 'go'.

A bunch of questions have come in as well. Here's a sampling:

1) I own Roman Galley #1. Will I be able to order any of the add-on sets
announced with #2 individually for use with my original ship?

YES. All of the add-on sets can be used equally on either of the galleys . These
items will be available to owners of either ship.

(2) I want to buy more than one ship. Can I get an extra discount on the 2nd one?

YES. When you order 2 ships, the 2nd will receive a 15% discount in price. Makes
it easier for you to build a fleet

SEE MORE questions on our Q & A Page


---
OK OK OK.......

YOU GUYS HAVE TALKED ME INTO IT....




THE ROMAN WAR FLEET RETURNS !!!

BACK IN 07 WE RELEASED OUR FIRST ROMAN WAR GALLEY (LET'S CALL IT GALLEY #1) RETAIL PRICED AT $750.00 EACH. WE MADE 500 OF THESE BEAUTIES WITH OVER 50 FIGURES INCLUDED IN EACH & SOLD OUT QUICKER THAN CAESAR COULD SUBDUE GAUL. BY 09 THEY HAD ALL SET SAIL FROM THE WAREHOUSE....

WE GET REQUESTS SEVERAL TIMES PER WEEK FOR A RE-RELEASE OF THIS BEAUTY, WHICH WAS SIMPLY ONE OF THE BEST THANGS WE EVER DESIGNED OR PRODUCED.




NOW, TO GO ALONG WITH THE RELEASE OF OUR MAJOR ROMANS VS. BARBARIANS LINE WE'VE HEARD YOUR PLEA AND HAVE DECIDED TO RELEASE A NEW ROMAN WAR SHIP!!! (LET'S CALL THIS NEW BEAUTY, GALLEY #2)
WE ARE NOT RERELEASING GALLEY #1 AS WE WANT COLLECTORS TO RETAIN THEIR INVESTMENT VALUE IN A SOLD OUT ITEM. ALSO MANY OF YOU HAVE ASKED FOR A LESS EXPENSIVE SHIP AS THE PRICE OF GALLEY #1 WAS UNATTAINABLE FOR MANY....

THE NEW SHIP IS SIMILAR TO YET DIFFERENT FROM THE ORIGINAL SOLD OUT WAR GALLEY ....




THE HULL, MAIN DECK, OARS, BOW AND STERN WILL BE THE SAME AS GALLEY #1 BUT THE BIG DIFFERENCE IS THAT GALLEY #2 DOES NOT HAVE THE LOWER ROWING DECK WITH THE 48 ROWERS AND THE HUMAN RESOURCES DIRECTOR(WHIP MASTER). THE 50 PAINTED FIGURES WHO WERE 'BELOW DECKS' (ON GALLEY #1) AND THEREFORE HARD TO SEE , WHILE BRILLIANT IN THEIR SCOPE , HAVE BEEN JETTISONED THIS GO AROUND SO THAT WE CAN KEEP THE COST OF THE SHIP DOWN FOR COLLECTORS. THERE ARE ALSO VARIATIONS IN THE PAINT SCHEME OF THE NEW BEHEMOTH .....




SAID DIFFERENTLY, THE LOWER DECK WILL BE CLOSED OFF . NO ROWERS ON GALLEY #2.

#2 WILL BE A LIMITED EDITION (LIKE #1) BUT WE HAVE NOT SET THE EDITION SIZE AS OF YET

LIMITED EDITION SIZE WILL PROBABLY BE NO MORE THAN 300 OF THESE BEAUTIES.
250 FOR COLLECTOR AND DEALER PURCHASE AND 50 FOR A MAJOR SEA BATTLE I WANT TO SET UP.....( A DREAM PROJECT OF MINE)

WE ARE WAITING TO HEAR HOW MANY ARE PRE-RESERVED (BELOW) BEFORE MAKING THAT DECISION.

A SMALL 'CREW' OF 8 FIGURES (NOT THE 56 WHICH WERE WITH GALLEY #1) ARE INCLUDED WITH GALLEY #2. THESE INCLUDE (1) COMMANDER, (2) LOOKOUT, (3) & (4) TWO CLIMBING THE RIGGING, (5) + (6) TWO HELMSMEN AND (7) A DRUMMER.


"ADD-ON" SETS WILL BE IN ABUNDANCE SO YOU CAN CUSTOMIZE THE ACTION ON DECK TO YOUR LIKING....A MINI SCORPION OR JAVELIN THROWER & CREW, MINI CATAPULT, DECK BOARD ACCESSORIES, OBSERVATION 'TOWER', ARCHERS & MARINES ARE ON THE SCULPTING LIST.




AS TO TIMING, WE ARE DOING OUR BEST TO BRING THE SHIP TO YOUR SHORE IN TIME FOR CHRISTMAS 2011--POSSIBLY EARLIER. THE ADD-ON SETS WILL PROBABLY ARRIVE EARLY 2012.

PRICE IS STILL TO BE DETERMINED BUT THE CLEAR GOAL IS TO MAKE THIS DEVIL MUCH MORE AFFORDABLE THAN GALLEY #1...DESPITE THE FACT THAT #1 SOLD OUT, I'VE ALWAYS FELT BAD ABOUT THE ROMAN COLLECTORS WHO WERE LEFT BEHIND WHO STILL WANTED A ROMAN SHIP.......I ALSO MUST ADMIT TO LOVING THE IDEA SEVERAL OF YOU HAVE HAD ABOUT WANTING TO PUT A FLEET OF THESE INTO ACTION AND IN ORDER TO ACCOMPLISH THAT A NEW LOWER PRICE WAS NEEDED.




WE ARE MAKING GALLEY #2 AVAILABLE FOR A NO OBLIGATION PRE-RESERVATION BY CLICKING HERE

PRICE WILL DEPEND UPON THE QUANTITY WHICH WE MAKE AS PRODUCTION RUN COSTS DIMINISH AS THE QUANTITY INCREASES.

ROUGH ROUGH GUESS IS $499.99 BUT OIL PRICES WILL HAVE AN AS OF NOW UNKNOWN EFFECT

(AS ALWAYS WITH PRERESERVATIONS/PREORDERS YOU ARE UNDER NO OBLIGATION TO PURCHASE--WE SHALL SUPPLY PRICING AND MORE DETAILS AS SOON AS WE HAVE THEM FROM THE FACTORY; BY CLICKING YOU GUARANTEE YOURSELF A SHOT AT ONE OF THESE BUT ARE NOT OBLIGATED TO PURCHASE AT THIS TIME )

THE SHIP WILL ONLY BE AVAILABLE TO COLLECTORS & DEALERS WHO ARE COLLECTING OUR OTHER ROMAN SETS AS THE CONTE FLEET ONLY TRANSPORTS CONTE TROOPS. OUR CONTE COLLECTORS CLUB WILL HAVE SEVERAL EXCLUSIVE FIGURES DESIGNED FOR USE ON THE SHIP!!

SAILORS & MARINES WANTED

SIGN ON TO VISIT EXOTIC LANDS
MEET & GREET FOREIGN PEOPLES

CAESAR NEEDS YOU!!!!


---
WHAT IT WILL COST YOU EMPERORS TO AMASS YOUR LEGIONS ?
Why It Pays To Pre-Order...( you save loads of denarii )
What Are Pre-Order Specials Likely To Be??





QUITE A FEW QUESTIONS IN THE PAST 3 WEEKS WITH REGARD TO WHAT IT WILL COST FOR EACH OF YOU EMPERORS TO PUT YOUR LEGION INTO THE FIELD AGAINST ROME'S ENEMIES.

WHILE EXACT PRICES ARE STILL SUBJECT TO FINAL CALCULATION WITH THE FACTORY & ARE ALWAYS DEPENDENT UPON THE COMPLEXITY OF THE FIGURE(S) AND THE DIFFICULTY OF THE PAINTING, I BELIEVE PRICES WILL BE AS FOLLOWS:

Pricing & Pre-Order Pricing

--- A COMPLEX SET SUCH AS ROME-001 PICTURED ABOVE ORIGINALLY RETAILED FOR $119.95 AND INCLUDED 3 FIGURES AND A TERRAIN BASE & A WHOLE LOT OF SCULPTING & ENGINEERING. PRE-ORDER PRICE ON THIS WAS ONLY $105.00 OR $35.00 PER FIGURE AND INCLUDED THE TERRAIN BASE.......

--- A MORE STANDARD SET WITHOUT TERRAIN BASE SUCH AS THE 2 FIGURE ROME-012 "ROMANS ATTACKING" OR ROME-013 OR ROME-014 WILL RETAIL FOR $69.95 WITH A PRE-ORDER PRICE OF $59.99 OR $29.99 PER FIGURE.



-- A 3 FIGURE SET SUCH AS ROME-009, ROME-01O OR ROME- 011 --THESE ARE THE SHIELD WALL SETS -- SHOULD RETAIL FOR 94.95 EACH AND INCLUDE A TERRAIN BASE. PRE-ORDER PRICE ON THESE WILL BE $84.99 OR AN AMAZING $28.33 PER FIGURE !!!



What Will Pre-Order Specials Be?

---AS USUAL THERE WILL BE FREE SHIPPING IN THE USA ON PRE-ORDERS OF 3 SETS OR MORE ORDERED AT 1 TIME.

$0.00 FOR SHIPPING

---AS WE DID WITH THE ZULU RANGE, WE WILL PROBABLY HAVE THESE ROMAN SETS ARRIVING IN 'WAVES' OF 6 SETS AT A TIME. WE WILL BE DOING SPECIALS SIMILAR TO WHAT WE DID WITH ZULUS-- BUY ALL 6 NEW SETS AND RECEIVE ONE OF THE SETS FREE.
AS AN EXAMPLE ONLY --IF ALL SETS 'IN A WAVE' WERE LIKE ROME 012 WITH 2 FIGURES , THEIR PRE-ORDER PRICE WOULD BE A DISCOUNTED $59.99 PER SET OR $359.94 FOR 6 SETS

OUR SPECIAL THANK YOU PRICE FOR BUYING ALL 6 WOULD BE TO RECEIVE ONE OF THE 6 SETS FOR FREE, MAKING THE SPECIAL $300.00 OR $50.00 PER SET OR AN ASTOUNDING

$ 25.00 PER FIGURE!!!!!

---WHEN IT COMES TO THE 'SHIELD WALL' OR TO THE MARCHING LEGIONNAIRES SETS, WE REALIZE THE IMPORTANCE OF BEING ABLE TO BUY A BUNCH OF THESE IF YOU ARE TO MAKE THE SET-UP WHICH YOU NEED TO CONQUER AN EMPIRE.
A SHIELD WALL & MARCHING SPECIAL WILL BE IN PLACE WHERE YOU CAN BUY 2ND , 3RD, 4TH -AS MANY AS YOU WANT --DUPLICATE SETS AT 25% OFF OF PRE-ORDER PRICES.
ASSUMING A SHIELD WALL SET WILL HAVE A PRE-ORDER PRICE OF $84.99 , THIS MEANS THAT IF YOU WANT A 2ND , 3RD, 4TH, ..R\ETC... SET OF THE SAME ITEM/SKU, EACH WILL COST YOU ONLY $63.75 PER SET
OR

$21.25 PER FIGURE!!!!!!!!!!

WE VALUE OUR FELLOW COLLECTORS AND ARE CONTINUALLY SHOCKED AT WHAT WE SEE OTHER COMPANIES CHARGING FOR FIGURES.
WE ENCOURAGE YOU TO DO RECONNAISSANCE ON OTHER ROMAN RANGES BEFORE BUYING OURS AND COMPARE SCULPTING, PAINTING , ANIMATION, ACTION AND PRICES.

COLLECTORS ARE TELLING US THAT SOME COMPANIES ARE CHARGING $55 OR MORE PER BASIC FIGURE!!!! OTHERS ARE TELLING US THAT OUR ENTIRE ROME-001 WINTER GAMES SET WITH 3 FIGS & TERRAIN BASE COST THEM LESS THAN ONE "RUSSIAN' FIGURE......

THANKS AS ALWAYS FOR YOUR KIND SUPPORT OF OUR LABOR OF LOVE


---
Preview of Rome-021 Hand to Hand Set


| | |
| --- | --- |
| | |