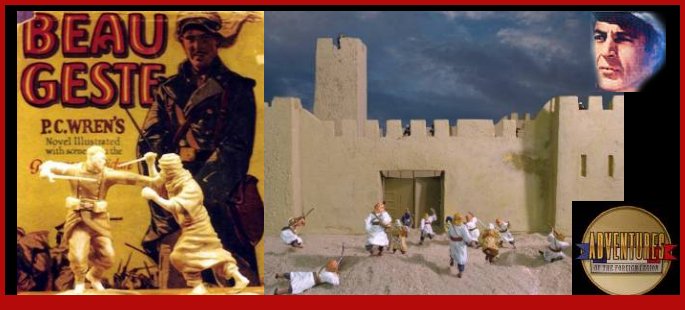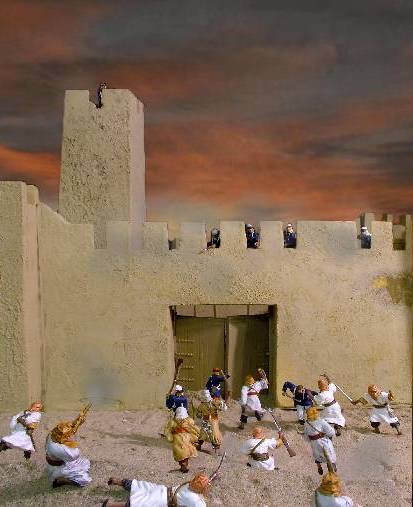 French Foreign Legion Series
Boxed Plastic Figures (16 figures with 8 poses per box)
| | |
| --- | --- |
| | |
| BEA011 Arabs Set #1 $20.00 | BEA014 Arabs Set #2 $20.00 |
| | |
| --- | --- |
| | |
| BEA011 French Foreign Legion Set #1 $20.00 | BEA016 French Foreign Legion Set #2 $20.00 |
BEA016 French Foreign Legion Set #3 $20.00
---
The "Beau Geste - Deluxe Fort" playset
ŠUniversal Studios
This magnificent playset consist of a multi-piece, true 1/32nd scale model of the famed "Fort Zindernuf" just as it appeared in the classic film about "heroic adventures," "savage desert tribesmen," and "men who laugh in the face of death!" At over 30" square, our Fort Zindernuf is complete with "The Barracks" and "The Tower of Death." The roof lifts off of the barracks so you can create "The Viking Funeral." Also included are a working front gate and accessories.
The poses include 13 different French Foreign Legion poses plus eight (8) Taureg poses. Over 80 figures are included in the set! Look for the brothers Geste - John, Digby, and Beau. A dead Beau, his "dog," Sgt. Markoff, and Legionnaires in all sorts of poses along with eight (8) attacking Arabs.
The "Deluxe" playset will be available in a strictly signed and numbered collector's edition of 1,000 sets. The set will include P.C. Wren's wonderful novel, a videocassette of the classic 1939 film, and a few additional 'surprises'!
BEA001:"Fort Zinderneuf" - Limited Edition Set playset #1- $299.00 (plus S/H)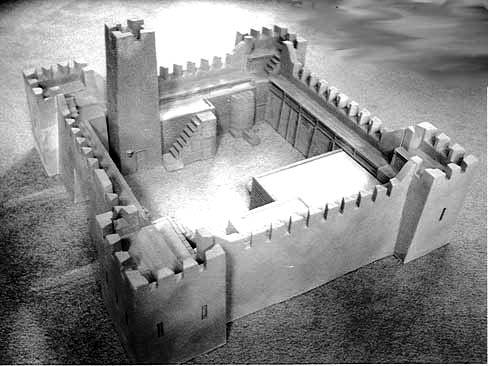 Fort Zindernuf
Fort - Interior View (Close-Up)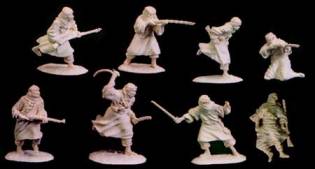 Arabs Set #1
| | |
| --- | --- |
| | |
| French Foreign Legion Set #1 | French Foreign Legion Set #2 |
Also included:
Accessories, French Flag, Beau Geste Movie (VHS videocassette), Beau Geste book, Blue Water Sapphire, Mattresses, Bunk Beds, Tabletop & Lanterns, Gate Assembly, Collector Letter, Limited Edition Certificate, Assembly Instruction, and Movie Stills.
---
The "Beau Geste - Adventures of the Foreign Legion" playset
This set will be totally compatible with our "Fort" playset and will contain two separate, highly detailed sand dunes, plus Arabs and Legionnaires in poses which we've wanted see. While none of the action depicted in this set has anything to do with the events depicted in Beau Geste, we thought you might like to add this set to your collection. Included will be:
BEA002: "Adventures of the French Foreign Legion" playset #2- $99.00 (plus S/H)
| | |
| --- | --- |
| | |
| Sand Dune #1 | Sand Dune #2 |
| | |
| --- | --- |
| | |
| Arabs Set #1 | Arabs Set #2 |
| | |
| French Foreign Legion Set #1 | French Foreign Legion Set #3 |
Also Include:
Accessories and Collector Letter
---
The Beau Geste is a trademark and copyright of Universal Studios. Licensed by Universal Studios Licensing, Inc.
All rights reserved.